Real Estate Corporate Housing Survey Says 2016 is the Year of Change
CorporateHousingbyOwner.com / CHBO reveals the findings of annual survey Exodus from Vacation Rentals; Airbnb

beats Homeaway; Craigslist beats Facebook And the Value of Corporate Housing Rentals

January 15th, 2016 (Denver, Colorado) – CHBO reports the 7th annual CHBO Corporate Housing Real Estate survey and finds corporate housing furnished landlords say 2016 is the year of division.  Monthly corporate housing rentals, a $2.7 billion industry, is not the same as vacation rentals and should not inadvertently be lumped into that lodging segment.
To see the difference between corporate housing and vacation rentals, just look at the renter's length of stay.  The finding of this report states that 6 out of 10 respondents say their last tenant stayed for three months or longer. Fifteen percent (15%) say their last tenant stayed for one year or longer. At an all-time high in 2015, 78% of respondents say they would only rent their property for 30 days or more. 
According to The Corporate Housing Providers Association (CHPA), "Corporate housing is fundamentally different from other types of short-term rentals. This well-organized industry provides a valuable service to businesses, employees and others in need of temporary housing while having a sizable economic impact on the communities where it operates. It is important that policymakers and officials understand the industry's importance and are cognizant of its particular characteristics and value when creating and implementing short-term rental policies."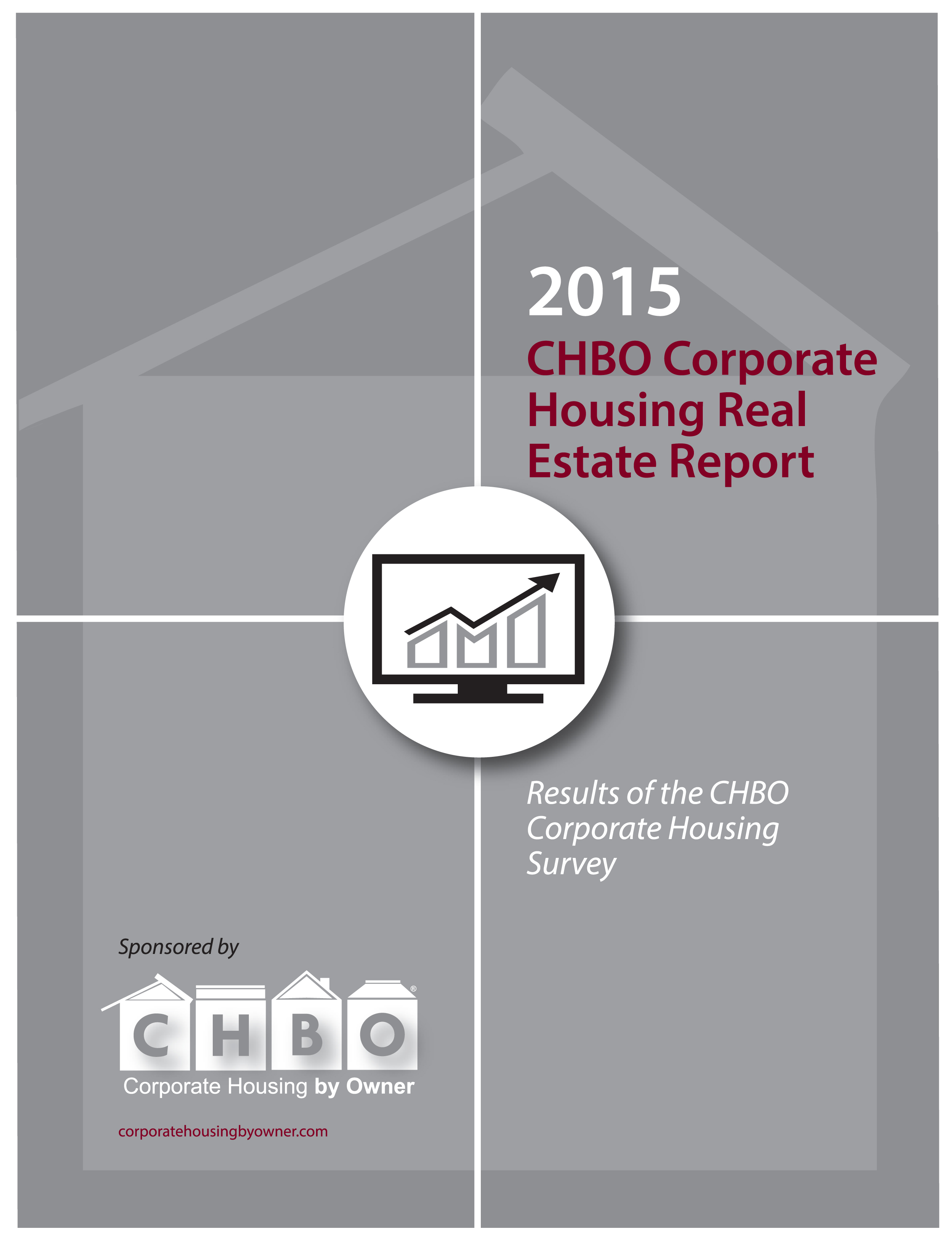 Kimberly Smith, CEO of CHBO says, "there continues to be a strong need for professional corporate housing real estate rentals from independent property owners and managers. And personally, I believe the clients who need this type of lodging are very different from those who want a shared rental or an extended stay hotel. Think about the difference between buying a new car from a dealership versus buying a used car from an individual. These are transactions for two types of customers with very different needs. Likewise, a relocating professional who has a high paying, high pressured job and needs to relocate his or her family of five to a new city is looking for corporate housing from a professional."  
Rental Success Starts With Understanding Data and Trends
2016 is the year of recognition for corporate housing real estate as a lucrative investment niche answering the needs of a mobile workforce and others seeking quality monthly residential rentals. The outlook for the coming year held strong with 21% predicting 2016 will financially be "much better than last year." Of those investors, 90% say their investment real estate is profitable and 45% are so positive they plan on buying more investment real estate. 
Mrs. Smith says, "Corporate housing is coming into its own, gaining recognition and also gaining investors who see the revenue potential."  She believes Airbnb brought to the forefront the value to renters, the fun and even the "sex appeal" of what is means to immerse yourself in a community and now renters are discovering the corporate housing industry has been providing quality rentals for decades and takes the guessing game out of a community rental.
In this year's findings, CHBO learned that Airbnb continued to beat HomeAway as one of respondents' "most used" marketing sources and for the first time also beat them as the source for the "most renters."   Surprisingly Craigslist regained some traction, just as Facebook lost ground in all 3 marketing categories.
Our biggest surprise this year was that everyone spent less on marketing their corporate housing rental.  In fact 63% (up from 55% in 2014) spent less than $500 on marketing their rental, however they were also less satisfied with their results.  In 2015, respondents saying my property is "always rented" went down to 41% from 48% in 2014.
Whether you've owned or managed a corporate housing rental for 10+ years or you're new to the industry, CHBO reports that success starts with understanding trends. Just because something has worked in the past doesn't mean it will work in the future. If you pay attention to the trends and avoid getting stuck doing the same thing over and over, you greatly increase your opportunities for rental (and financial) success. 
Mrs. Smith says corporate housing landlording is nothing new, but obviously an increasingly popular option these days for the savvy real estate investor.  "My hope is that this report will continue to help real estate corporate housing landlords become more educated, knowledgeable and profitable as it allows them to deep-dive into emerging rental trends and how such trends will impact them personally." 
 
What You Should Know About This Report


 
This report is different from other property management reports because it reflects input from independent owners and property managers, rather than full-service corporate housing companies.

Our survey was open to anyone who owned or managed a furnished, monthly residential rental in 2015 - not just to CHBO users. Our goal is to get the best snapshot of the independent corporate housing segment, so you can learn from relevant trends and be more successful.

Rental Rates Rising - 39% of respondents — an all-time high — report charging higher or much higher rental rates in 2015. This number has been rising since 2013. We also saw a 3% decrease in the number of respondents who say their rental rates were identical to the previous year.

Actual Rental Rates - Compared to our 2014 survey results, actual rental rates were higher in 2015. The one exception was for studio units, which showed a slight decrease in month-to-month rental rates. Four bedroom rentals saw the largest increase in rental rates.

Investment Real Estate Trends - Consistent with previous years, more respondents say, "Yes, I plan on buying more real estate" (45%), than "No, I'm done with real estate" (18%). Unlike previous years, however, the number of respondents who say they're done with real estate investing rose 5%.

Corporate housing has gone to the 'burbs - Consistent with previous years' results, 49% of respondents say their corporate rental properties are located in urban, business districts. 44% say their properties are located in suburban areas.

You've Got Pets - We saw a slight increase in the number of property owners who accept pets compared to 2014. Now, 38% of survey respondents say they accept pets (down from the all-time high of 50% in 2011).

Reasons for Being a Corporate Housing Landlord - The majority of respondents — 58% — tell us they're landlords for "investment purposes." With a 15% response, the second most common reason for being a landlord is renting a "primary residence.

Renter Types - Relocation renters rose to 45% — up 3% over 2014. We also saw all-time highs in renters due to: "home remodels" (30%), "movies/entertainment" (15%) and "divorce" (20%). We've seen annual increases in renters due to divorce since 2010.

Security Deposits, Travel Insurance and ARDI - 88% of respondents collect a refundable security deposit — most often, $500 to $1000 or one month's rent. The number of respondents who collect "no kind of deposit" hit an all-time low of 4%. 26% of respondents say they offer travel insurance and/or Accidental Rental Damage Insurance (ARDI) to their renters.

Credit Cards - Approximately 57% of respondents say they accept some form of credit card payment from their renters, down slightly from last year. In 2015, MasterCard and Visa tied with PayPal as the most popular credit solutions.

Internet Reservations- Once again, we asked property owners about real-time booking reservations (in which a property is leased through a computer website without any interaction between the property owner and tenant). Similar to 2014, 44% of respondents say they've used one of these programs.
To download a free copy of all seven Corporate Housing Real Estate Reports, please visit the Dashboard at CorporateHousingbyOwner.com. To purchase a copy, visit Amazon.
 
About Corporate Housing by Owner (CHBO)
CHBO is a Team of Corporate Housing Professionals.  CHBO works daily to support quality corporate housing rentals and qualified renters find solutions.  We are focused on Corporate Housing rentals around the world and our on-line portal works to connect properties and renters as quickly as possible.  CHBO was founded in 2006 out of a need to connect private homeowners and real estate investors offering furnished, monthly rentals with corporate housing seekers such as traveling executives, relocated professionals, traveling nurses, actors, athletes and more. The company provides individual homeowners and investors resources and guidance to help them strategically manage their corporate housing rental properties as well as exposes their properties to thousands of potential tenants worldwide who are seeking monthly housing options.